Grading & Excavation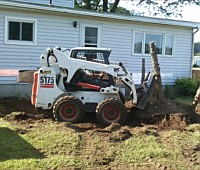 In order for you to use all of the outdoor spaces on your property in the best possible way, you may need to excavate and grade the land. This process is vital to the foundation of most landscaping projects and should only be entrusted to trained and experienced professionals. For all types of grading and excavating services, we are the experts to call.
At Keenkut Landscaping, we are passionate about what we do and it's how we have built a vast customer base in and around Westfield, Agawam, and West Springfield. Our high-quality services have earned us the trust of commercial and residential clientele in Longmeadow, Springfield, and Chicopee.
We have completed a large number of grading and excavation jobs as part of landscaping projects in Windsor Locks, and Holyoke. For over a decade, our team has assisted countless businesses and residents in Longmeadow, Easthampton, and the surrounding areas with these services.
Lawn Grading Services
For your lawn spaces to look their best, they must be properly graded. If the lawn isn't leveled well, this aspect will be strikingly visible at all times and the lawn surface will look uneven. But aesthetics aren't the only reason why you should focus on having custom yard grading done. The right grading is important in protecting your property.
If the lawns slope towards your residence or commercial building, water will flow right up to the exterior walls of your property. This can cause a considerable amount of damage to the below-grade levels such as the basement and the foundation. Properly-graded yard or ground spaces will ensure the water flows very safely away from your property towards the exterior boundary.
Excavating and Grading For Hardscapes
If you are planning to upgrade any section of your landscape, it's essential that you hire experienced local excavation and grading contractors for the job. We have the skill, knowledge, and experience to create the appropriate subtle slopes for the various hardscape installations. All features such as patios, decks, pools, fireplaces and fire pit zones as well as terraced areas, walkways, sidewalks, and pathways need level ground. Our experts will level these areas scientifically and expertly.
Commercial & Residential Grading and Excavating
As a company that caters to both residential and commercial clients, we know what it takes to provide custom excavation and leveling services. We work closely with our clients, ensuring they get perfectly leveled areas for the construction of hardscapes. Our team has the skill to tackle every job meticulously and in a timely manner. In most cases, these services are part of projects like landscape installations and landscape upgrades etc. The related services that we offer include:
Stump grinding/removal
Swimming pool excavation
Site Work
Trenching
Brush clearing
Drainage systems
When you want reliable, professional services at very competitive grading and excavating cost, you need look no further than Keenkut Landscaping. You can speak with our experts at 413-896-9240 to discuss your project details or send us queries and quote requests through this Contact Us form and we will respond shortly.